OldddffAASSTT the Spin Master Extraordinaire and American Lock Slayer

Posts: 4412
Joined: Thu Mar 31, 2011 3:16 pm
Location: Michigan
manipulation #17
Most importantly, I want to give a
HUGE
shout-out to Altashot
for offering his time & expertise (
free of charge
) to help me
bring this lock back to life. Otherwise it'd still be in a box!
viewtopic.php?p=72209#p72209
This lock arrived with a broken lever. In addition, I noticed wheel 3 had a sticky fly.
The flys are permanently pressed into the inner-hubs and cannot be removed.
Had I tried to revive either of these parts myself... lol... well, lets just say
I sent them off to Canada. They returned to me fixed and ready to go!
So Altashot, I'd like to again thank you - not
ONLY
for fixing the parts, but
also taking time for all my questions while mounting this unfamiliar lock.
. . . . . . . .
. . . . .
. . .
. .
Mosler
Group2 ... 3 wheel ... hand change ... spring-loaded roller fence
Take note of the two additional security features to the right of the lock case....
this is my way of covering up the mistake of mounting the lock the wrong way. lol
Mosler's drop-in area is around zero. To achieve this the lock MUST be mounted LH.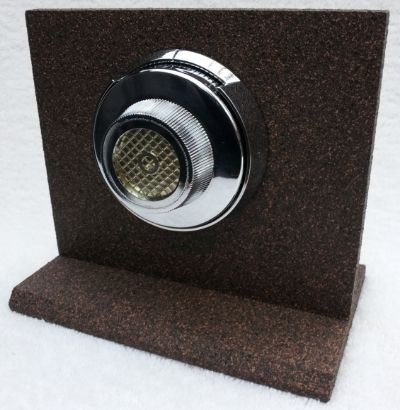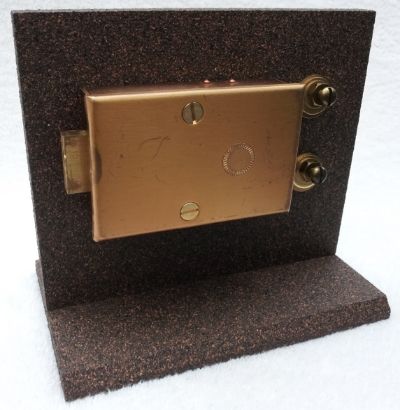 I also spent a great deal of time fixing someone's previous half measures.
Probably happens all too often.... in order to fit the lock to a current scenario,
people will just decide to cut out a little bit of
this
and pound the shit outta
that
:/
Won't go into detail, but needless to say I was forced to take some half measures myself.

This one became a bit of a '
money-pit
' and officially has the highest price tag in my small collection.
HOWEVER, it was worth it! It's a beautiful piece of history and a wonderful example of craftsmanship.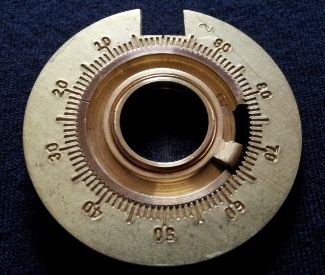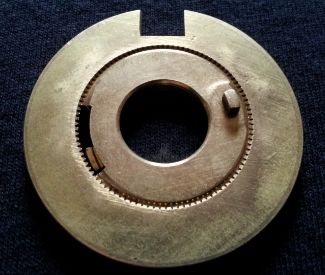 First thing I noticed was a significant weight difference compared to most modern day locks.
And although I'm not knowledgeable when it comes to metals - the composition of both
the bronze and the brass seemed to be of a much higher quality than todays' mixes.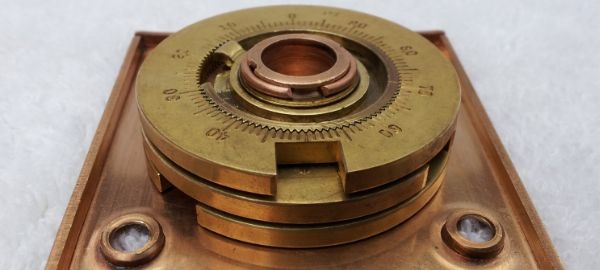 ...and in a very large world... a small stack of joy.
CONTACT AREA
Approximately 9 incs wide
LCP
95 . . . . .
RCP
4
ROTATIONAL CONVERSION
pick-up differences for wheels
3, 2, 1
were
:
0 .... .1 .... .2 .... respectively
Note the minute pick-up differences. The purpose of moveable flys are twofold:
1.
to maximize the usable numbers when choosing a combination, and
2.
in theory, allow the combination to be dialed from either direction.
This is the first lock I've encountered that
ACTUALLY
does this.
And one last note before we get started. Just the opposite of most locks,
this lock requires a LEFT (cc) rotation in order to retract the bolt. So the
proper
dialing configuration will be a R-L-R, finished with a LEFT to open.
So I've waited a loooong time for this moment!
Lets... get... SPINNIIIIN'!!
**
readings were taken in tenths - every 2 increments - rcp only
**
graph1:
AWR

Throughout the manipulation, this lock consistently responded well to hi/low testing.
The results were always very definitive, and always indicated the correct wheel.
But here, I chose isolation in order to determine which wheel has indicated.
graph1a:
isolating w3
As always, I start by running the most likely wheel... w3.
Had the gate not occurred on w3, I'd move on to wheel 2, then w1.
The choice to park the other 2 wheels @91 is to maximize fence contact.
-
-
R71
Graph2:
1&2 AL...3 @ R71

graph2a:
isolating w2
-
L32
-
R71
And we all know what happens once two
of the gates have been discovered....
game over
OPEN:
R0 - L32 - R71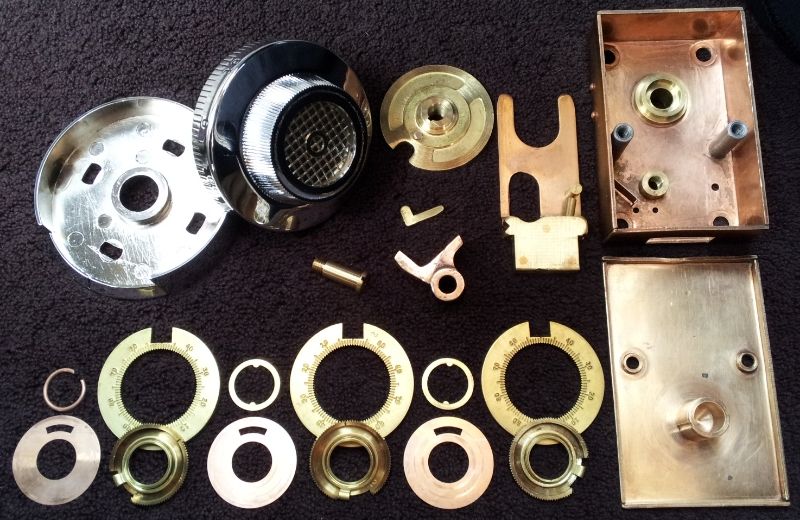 "
Enjoy the journey AS MUCH as the destination
."