Received my Soubers this week finally got to play with them and I'll give a quick run down of what I think.
At $80 Canadian for this set I was expecting a very high quality set. Am I satisfied? Yes and no, The overall quality of the business ends is of very good quality which is after all the important end. They are flexible ,but not too much, they are finely ground and of good quality spring steel not stainless. They seem to be perfect for the Abus ec75 lock I'm still working on and get under the pins easily and manipulate nicely. Unfortunately I don't have a Multi-lock to work on yet so that will be for another day.
Now for the cons, the handles are constructed of two pieces of hard plastic that is tubular in shape and what seem to be press fit together with a rather nasty, and gappy in places, seam running along them. They will need some cleaning up to have a quality feel to them and get rid of the rough edges. Possibly some filling with epoxy or similar filler or possibly even removal and fitted with custom scales. The tension wrenches are of very thin stock and probably of limited if any use. They are also crudely bent with a rather large radius on some and not at a full 90 degrees bend.
Summation:
All in all a usable and practical set which does come in a quality leather case but is slightly overpriced. I'd give them a slim 4 out of 5 overall with demerits for the cheap handles.
Photo of my set: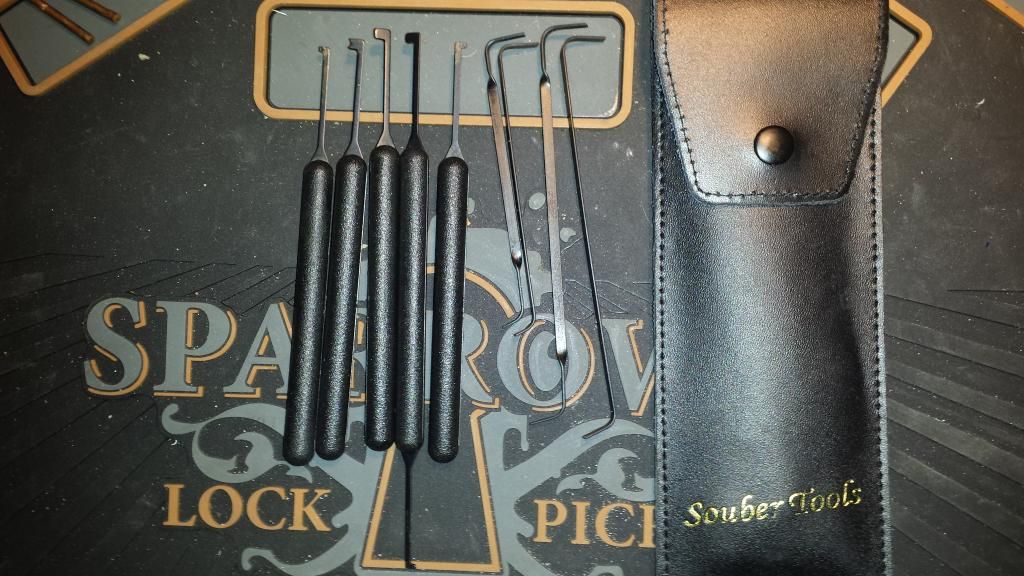 The other, other, other, other Mike
(21:55:20) HAL 9001RC:: Heh heh uh heh uh heh uh uh heh PhoneMan said ass