Hi, and thanks for stopping by!
I have recently been acquiring various lockpicks sets and now have a good collection, the last set arriving just a few days ago.
I intend for this post to be my most comprehensive (to date) lockpick review, which will include an considered and (hopefully!) unbiased opinion on the presentation, quality and performance of each set and thus the manufacturer.
Please note that whilst I've posted semi reviews of individual products on other posts/forums before, this is my first attempt to catalogue all my thoughts, experiences and opinions into one standardised format and location.
Usual disclaimers apply – I am not a professional locksmith not an expert picker by any means; I have only recently started in this hobby and thus I may gloss over or miss out details which would normally be considered important for a review. My picking skills are likely not good enough to justify my claims and I make no claim of holding the official opinion of any other forum member, staff member or the forum as a whole. My opinions are mine and mine alone; YMMV and E&OE. I have no association or affiliation with any of the companies featured in this review, hold no personal or professional stake or sway with any of them including manufactures, distributors, suppliers etc and all of these pick sets were paid for with my own money and are not promotional materials etc.
With that out of the way, let's move on
.
Contents
1. Methodology
2. List of pick sets being tested
3. List of locks used in testing
4. A. GOSO 24Pc Mini Review
4. B. Klom Mini Review
4. C. SouthOrd c2010 Mini Review
4. D. Sparrows Monstrum XXL Mini Review
4. E. Peterson Just Picks Euro Slenders Mini Review
4. F. Peterson Phoenix Ultimate GSP Mini Review
4. G. SouthOrd Max M4000B High Yield Lock Pick Set Mini Review
5. Comparisons
6. Picking times chart
7. Conclusions
Section (4) Mini Reviews will be broken down as follows:
1. Item full name
2. Possible vendors & where I bought mine
3. My Price
4. Specifications
5. Pick Case / Packaging Opinions
6. Pick Quality & Finish Observations
7. A. Experiences picking – Master No. 3
7. B. Experiences picking – LearnLockPicking Standard Cylinder (5 pins)
7. C. Experiences picking – Euro Cutaway (with spools)
8. Overall mini-conclusion
Rating System
All pick sets will be rated by me on the following scale:
* Case / Packaging:
0 – No case or very poor quality
1 – Mediocre quality case
2 – Good quality case
3 – Very good or outstanding quality case/packaging
* Pick Finish:
0 – Terrible quality finish; noticeably affected picking
1 – Poor quality finish – looked unsightly
2 – Good quality finish – only minor blemishes to be seen
3 – Extremely good, mirror-finish quality, very smooth in the locks
* Pick quality:
0 – Flimsy, cheap-feeling and just plain nasty
1 – Poor quality, barely passable for use in picking
2 – Good quality, felt nice to pick with
3 – Absolutely stunning! Comfy and a delight to use.
* BONUS for plastic/rubber handle picks:
0 – Metal handle of pick stopped shortly inside of the plastic handle
1 – Pick metal runs entire length of the handle
* Overall
0 – Very poor impression, felt like an inferior product
1 – Poor quality, felt cheap
2 – Good quality pick set, recommended
3 – Highly recommended, superior quality
Overall it's possible for a pick set to score as little as 0 or as high as 12+1 points.
Each point value will be assigned a percentage score, and those scores are weighted to reflect certain values that I see as more important, or to make the scores more fair. For instance, the gap between 2 and 3 points is much smaller than between 1 and 2, to reflect the high score that a "very good" set should get without tarnishing a 100% product nor making it seem unduly bad. Here are my weightings for your reference:
Case/Packaging
0 – 0%
1 – 7%
2 – 18%
3 – 20%
Pick Finish
0 – 0%
1 – 8%
2 – 20%
3 – 25%
Pick Quality
0 – 0%
1 - 8%
2 - 20%
3 - 25%
Overall
0 - 0%
1 - 10%
2 - 22%
3 - 30%
Bonus Pick Handles - 10%
I may also award higher or lower percentages than the assigned points score if I feel that a given product fell below or above the bar for its given rating – in this case I will point this out at the time.
The maximum possible score a set can get is 110%, whilst the lowest is 0%
1. Methodology
To ensure fair testing of all products, I will used a standard test for all pick sets.
Stage one – I will examine the product's outer packaging / case
Stage two – I will examine all of the picks within, checking for metal finish
Stage three – I will point out any manufacture flaws and issues as well as general pick quality
Stage four – I will pick three locks once each.
For Stage four, I will select picks using one or more of: Medium hook, Deep hook, Diamond/half diamond. Any picks used will be listed in the review.
As tension, I will pick my preferred wrench from that set. If the set does not come with one, I will use a standard twisted L wrench. (the one I am currently using is from the SouthOrd Max set but it's a very standard wrench).
The vice that I will be using to hold the two cylinder locks is a Panavise 301 head on a 312 base.
I will practice with each pick for a time (to ensure no unduly long test times) before setting up a timer and doing three timed picks for each lock. The average of this will appear in the results table which will be published in section 6.
I will include a series of photos in each mini-review, including (at the bare minimum):
A look at the case / packaging
A broad look at the pack contents
A broad view of all picks laid out flat
A closeup of several picks (pick end portion)
A shot of all three locks picked open
2. List of pick sets being tested
The pick sets that will be included in this test follow. If I obtain any more pick sets, they may be added to this review using the same methodology as above.
A. GOSO 24 Piece Pick Set
B. Klom KL-318 18 Piece Pick Set
C. SouthOrd c2010
D. Sparrows Monstrum XXL
E. Petersons Stainless EURO Slenders
F. Petersons Phoenix Ultimate GSP Pick Set
G. Southord Max M4000B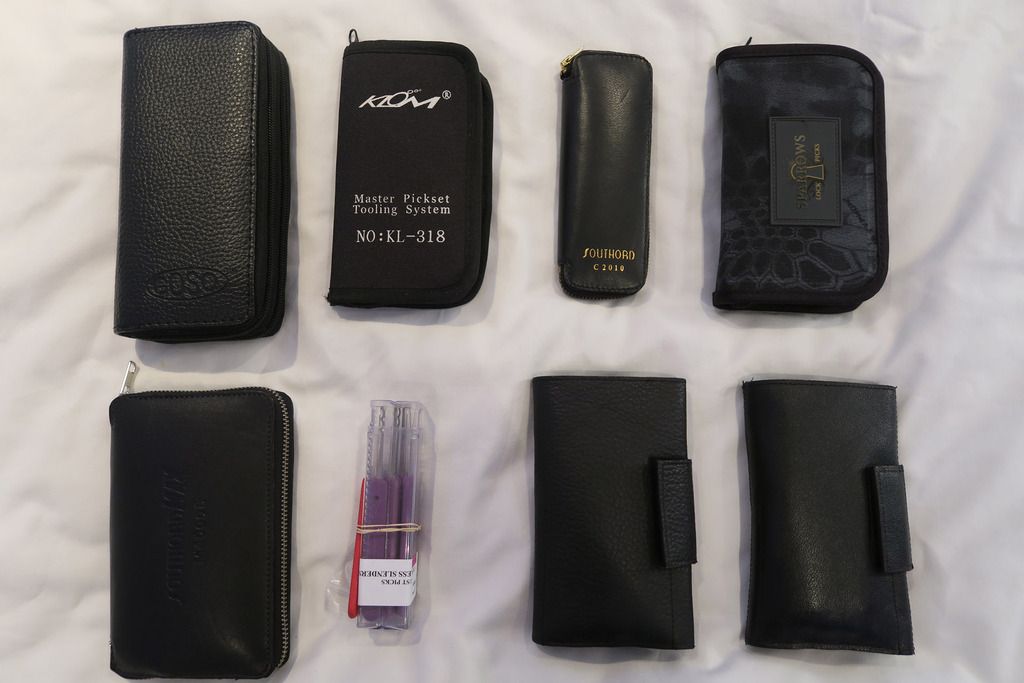 3. List of locks used in testing
To test these lockpicks, I will be using a set of three standard locks which will not change between tests for fairness. I will also test them in the same order each time.
1. Master Number 3 – the little laminated padlock that can....'t
. 4 pins, all standard. The lock body is sealed so pins cannot be changed. This will be the first lock that I will pick. I will pick this padlock "in hand", in contrast to the other two which will be picked on the vice.
2. LearnLockPicking 5 Pin Practice Cylinder – Standard Pins. This is a pin tumbler mortice cylinder, fitted with the 5 standard pins that it came with from the shop. Check out learnlockpicking.com for more details. All standard key and driver pins will be used, original key will work in the lock. This lock will be picked second, and will be picked on the vice.
3. Repinnable 6-Pin Euro cylinder (4 standard pins, 2 spools). I bought this practice cutaway from eBay and you can find an identical one by searching ebay UK for "repinnable cylinder" – it's the one from seller locks-away (at this time of writing). I will be leaving it fitted with all the "factory default" pins, but will replace pins 2 and 5 (counting starting from the keyway) with the supplied spools.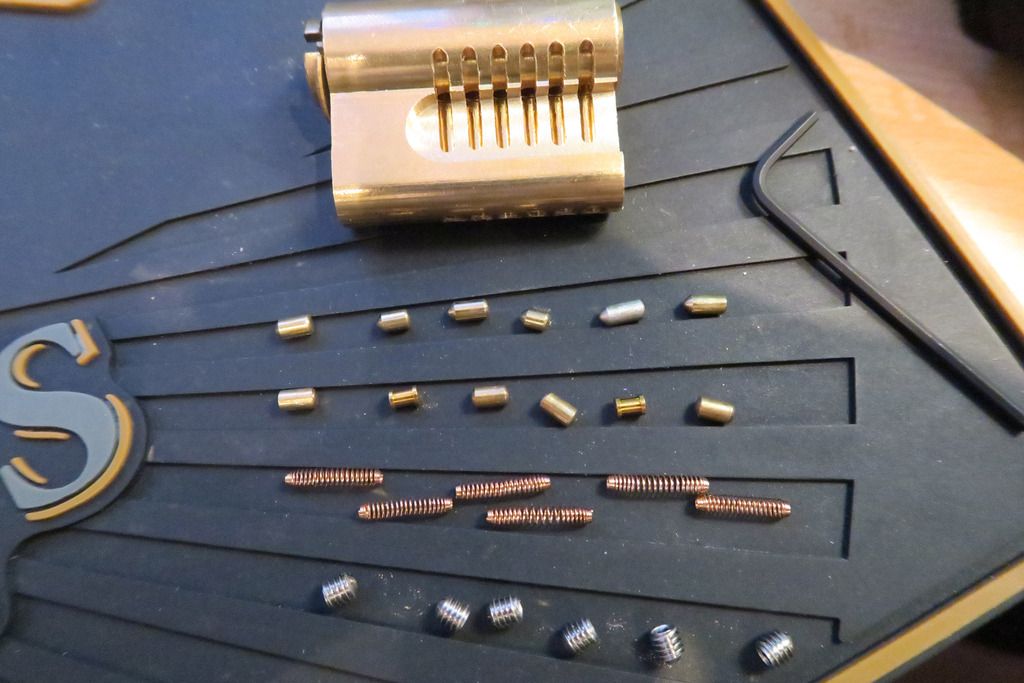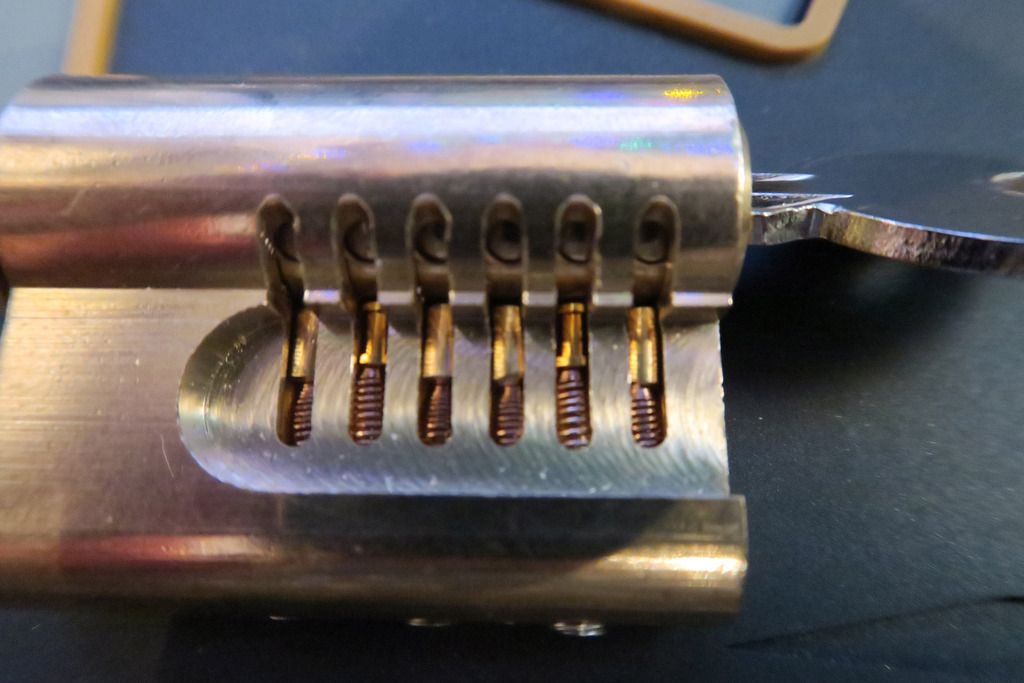 4. Mini Reviews
In this section I will review each pick set, in turn. The review order is based roughly on set price and "expected" quality, however it will be interesting to see if every set (or even any set!) can maintain a ranking in line with its corresponding cost!
A couple of quick notes which have become apparent over the course of writing all these mini reviews:
Firstly, you may be wondering why, if I'm reviewing in a roughly price-based order, why the Southord Max set comes
after
the Peterson set. That's because at the time of starting this review series and document, I did not own the Southord Max set, and the lettering and files had already been set up before I purchased that one, so it got inserted into the end of the list. If you're wonder why the photo above DOES show the Southord Max – that wasn't the original photo that I took, which included just the earlier sets. I retroactively updated the photo with a new shot including all sets later in this review.
Secondly, you might be wondering why the photo includes one more case than I am reviewing here. I bought the Peterson pick set along with another Peterson kit, filled with bypass tools. However as I am multi-posting this document to a few places, all of which have different rules regarding such things, I will not be showing or reviewing this kit in my review.