You may have seen my re-pinnable practice lock purchased from
eBay
. That one was a Euro cylinder, which is great practice for us Brits, however prior to this I actually purchased some practice locks from
LearnLockPicking
. Those took a long time to arrive to I had ordered that eBay one in the meantime, however a couple of days back the LLP ones finally arrived so I've been able to do a comparison review.
Just a quick note regarding picks - I used the same two (mostly one) picks in this comparison to make it far; that is the SouthOrd Max medium hook (and also the deep hook), along with a standard L tensioner and a double edge one (shown later in photos). These are part of a SouthOrd Max kit that I recently bought to review and will be doing so in a future thread.
To fairly review all the products available, I purchased the 5, 6 and 7 pin practice locks from LLP and will discuss each on it's own merits and collectively - the 7 pin version is a little different and we'll discuss why later in this review. Please note that all products mentioned in this and any other review by me were purchased with my own money and I have no financial, personal or other investment in any of the companies mentioned
.
So, to start the review, let's first have a look at the eBay practice lock:
The lock is a single-sided Euro cutaway, 6 pins, and comes with a key (which works), bag of 30 replacement pins (including driver and key pins, and some spools), and a hex key to remove the grub screws. The screws are easy to remove, no problem there. The cutaway looks nice enough, but is pretty sharp so watch your fingers on those milled edges!
Let's get it pinned up with two standard pins and see how we do!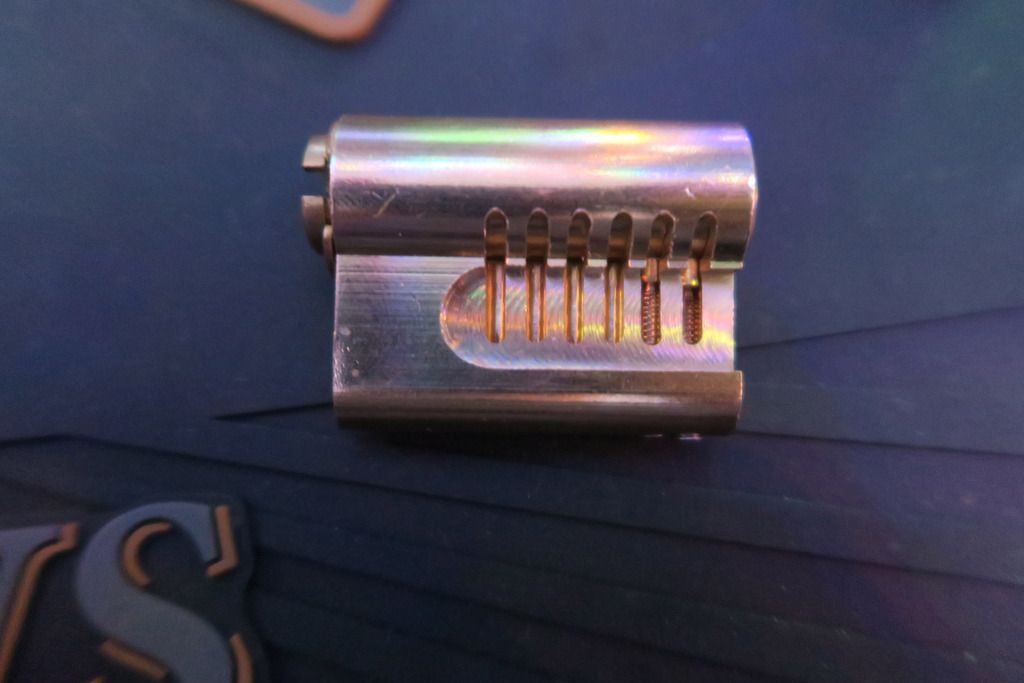 Adding the pins was a 2 minute job. Grab the hex key, unscrew the small screw at the top of each pin stack (do it one at a time so you don't get the pins mixed up!) and dump each stack onto a pinning mat or tray. Arrange them into Screw>Spring>Driver>Keypin and then move on to the next one. Simples!
Here are the picks that I'll be using for this review - all SouthOrd Max products as I recently bought their M4000B SouthOrd Max pick set to try out, and will be working on a review for that ASAP as well. The picks that I used for this demo were:
SouthOrd Max Medium Hook (Pictured)
SouthOrd Max Deep Hook (Not Pictured)
Standard L tension wrench (twisted 90°) (Pictured)
Double-prong tension tool (Pictured) (I really got on well with this unusual tensioner!)
The cylinder was clamped up in my vice and picked a few times - I wasn't timing and didn't photograph at this stage but it was taking me on average less than 5 secs with 2 standard pins. My observations for picking this lock were as follows:
1. It has a tight keyway! It's a Yale style and you tend to need to angle the pick at probably around 45° towards the pins from straight down. Attempting to pick straight down gets you caught in the keyway. Consequently this adds a bit of a speedbump for the beginner!
2. I've picked this lock with GOSO, SouthOrd and Sparrows picks and I have to say these SouthOrd Max picks are very nice, whilst this isn't a review for the picks I've found that other picks can get caught in the keyway but I didn't have that problem with this one. That said, it's a little rough inside the keyway (likely due to it being milled) so the chances are that your pick may get stuck in there at some point.
3. The rotation of the plug is nice and smooth, and I've found you can use light or heavy tension, both work on this standard cylinder with standard pins. It picks nice and fast once you get used to the odd slanted angle that you need to go at and pick times were minimal - as I mentioned, <5 secs for 2 pins and not too long at all with more pins in the cylinder.
Moving on to three pins:
At this point I started to record which tensioner I was using and my pick timings (calculated by inserting the tensioner, setting a stopwatch on my phone and stopping it after the pick was complete). I haven't recorded a video of this but would be happy to do so if proof is needed
.
Three pins results:
Tensioner: Double Prong
Attempt 1: 31 secs (including one reset due to overset)
Attempt 2: 15 secs
Attempt 3 using L wrench: 33 secs
Four pins results:
Tensioner: Double Prong
Attempt 1: 22 secs (Including one reset)
Attempt 2: 17 secs (including one reset)
Attempt 3 using L wrench: 11 secs (!!)
Five pins results:
Tensioner: Double Prong
Attempt 1: 15 secs
Attempt 2: 7 secs
Attempt 3: 30 secs
Attempt 4 using L wrench: 6 secs
Six pins results:
Tensioner: Double Prong
Attempt 1: 26 secs
Attempt 2: 44 secs
Attempt 3: 11 secs
Attempt 4 using L wrench: 2:43 mins
Attempt 5 using L wrench: 1:19 mins
Not sure why it took me so much longer with the L wrench and 6 pins. I kinda hit a brick wall and lost my touch.
Note regarding the above results: I'm already very experienced with this particular cylinder so I do know the binding order etc and being a cutaway I can see the pins move and set, plus it's clamped up in a vice at the ideal angle and I'm able to wrap my hand around the cylinder etc so this is all really "best case" scenario.
So, that's it for the 'old' practice cylinder. I'm not in the practice of giving review scores, but I'd say that it's a very nice practice cutaway to learn about how the internals of locks function and to help you really get a grip on how pin movement and pin setting looks.
So! Moving on to the new locks from LLP
Here's the three of them in their boxes:
The packaging is basic, just these small flimsy cardboard boxes with the lock cylinder, keys and bag of pins dumped inside, but that's fine I guess for this sort of product.
Here are the locks unboxed: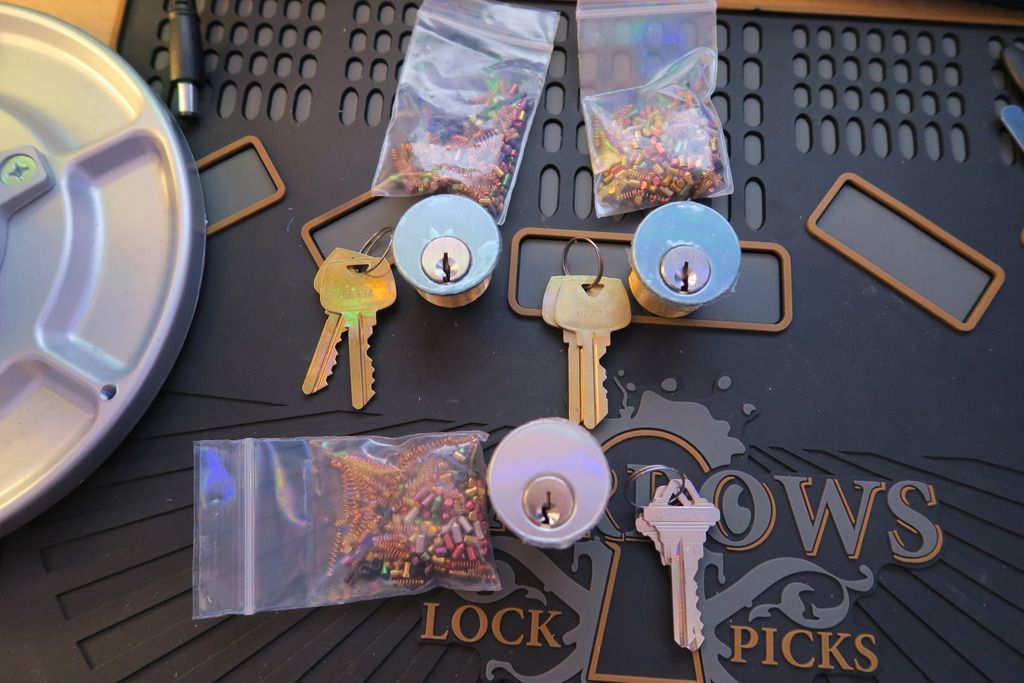 They appear from the front to be similar to the pin tumbler nightlatch style locks that we have here in the UK but have much thicker backs. I'm not sure what you'd call these locks as I believe they are more prevalent in the US than the UK (which would make sense as they are from a US store).
Each lock comes with the cylinder, a set of keys (2 each) a hex key for repinning the cylinders and a huge bag of replacement pins - the official website states that the exact contents vary depending on whether you bought the standard 5 pin lock (springs, driver pins, master pins and standard key pins as well as spare grub screws), 6 pin lock (All the above plus Spools), or 7 pin (All the above plus Serrated). However, looking through my three pin bags they all appear to be identical and I can see spools and serrated pins in all bags - not sure if this is the norm and whether you will get the same, but that's my experience.
The cylinder covers are protected by a small piece of blue sticky film: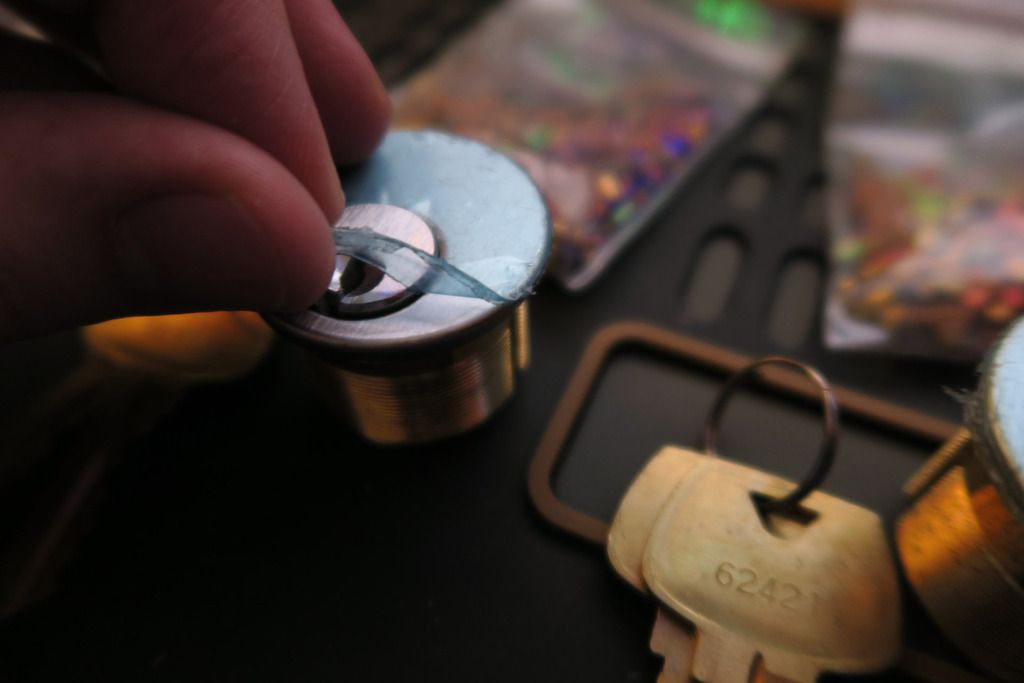 Revealing a nice brushed steel effect on the front of the cylinder: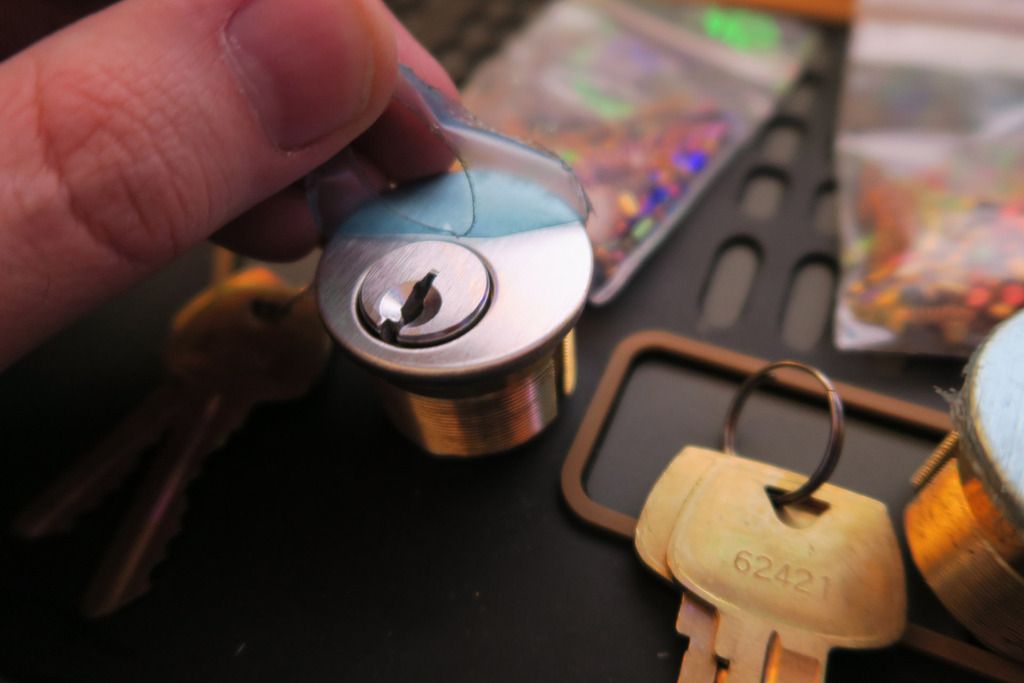 Here you see the three keys. Notice how they ALL have only 5 cuts?:
There's a good reason for that:
All of the cylinders are only pinned with 5 pins, and all of the keys support only 5 pins
.
Now, of course you can put 6 pins in the 6 pin cylinder and 7 pins in the 7 pin cylinder. Just be aware that these come from the shop only pinned with 5 pins, and no matter which one you buy, they all come with only a 5-cut key. Not a big deal for a picker but I just thought you should be aware.
"factory default", all three versions come pre-pinned for the key with standard spring, driver and key pins, no master pins and 5 pins per lock.
Note also how one of the keys looks different whereas the other two look the same - the silver one is for the 7 pin cylinder and has a different, and much more restrictive keyway more reminiscent of Euro / Yale style locks.
The front of all three locks:
Top down: 5, 6, and 7 pin respectively:
The three bags of pins:
Keys in and unlocked, from the front:
From the back:
I emptied one of the pin bags out, here's a sample of the included contents. You can see key pins, driver pins, springs, serrated and spool pins and some master pins too, as well as spare grub screws (in black):
Just a quick warning regarding these cylinders: they all have two milled channels, one on each side (left and right if you hold the cylinder so that the keyway faces down (or up)), around 2 or 3 mm cut right from the back (actuator side) through to around 1cm short of the front plate. I dunno if these are "factory" cuts for installing the lock, or something to do with the re-pinnable nature of these locks specifically, but those channels are RAZOR sharp - I've given myself a few "papercuts" of varying nastyness just HOLDING these.
DO NOT TOUCH THE MILLED CHANNELS!
. Yeesh!
I took the liberty of sorting one of the pin bags, which took forever so I only did it with one bag. Sorted into all the pin groups: Springs (far left), standard drivers (second left), standard key pins (middle), serrated (second right) and then spools and master pins (far right). Grub screw at the middle bottom:
Springs and pretty drivers: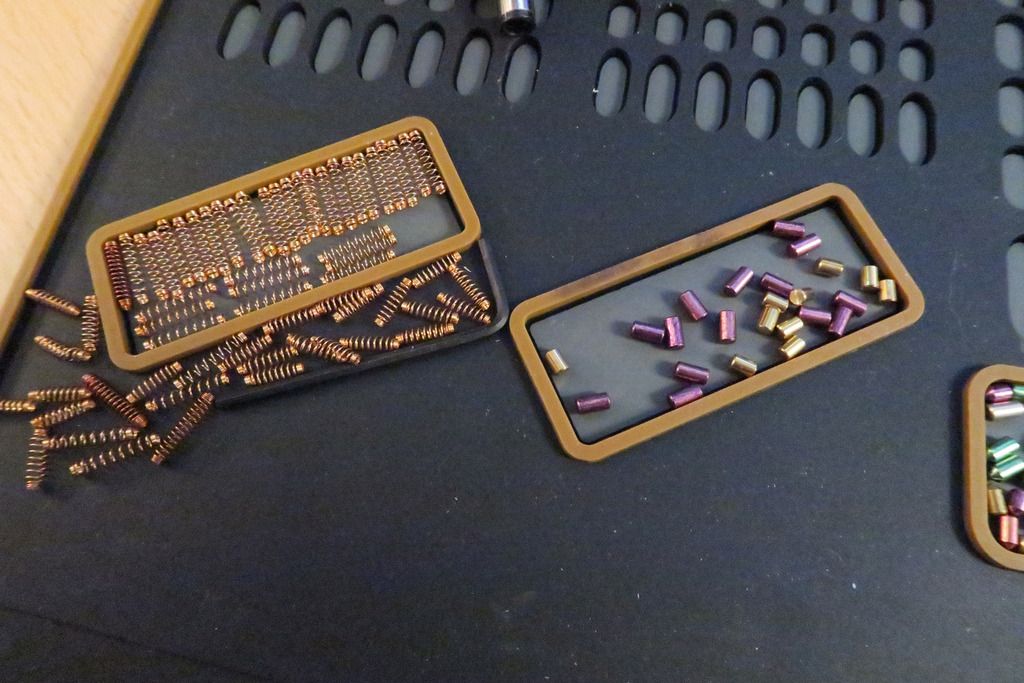 Pretty keypins and serrated:
Serrated, Spools and pretty masters (Some of the masters may just be really short driver pins? Not sure...):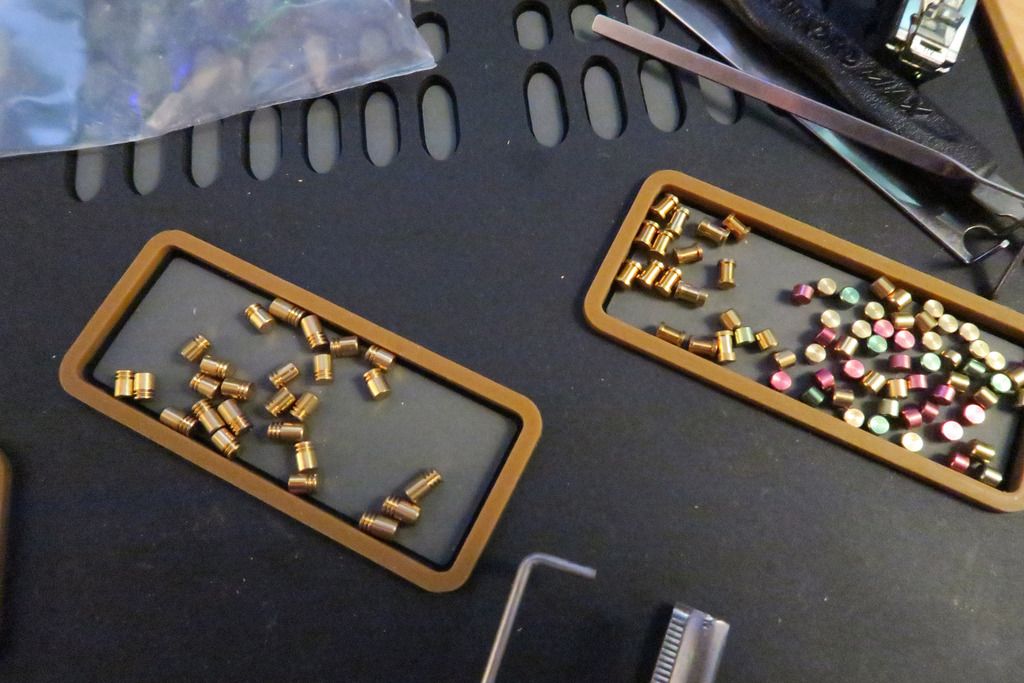 Screws!
I then de-pinned all the cylinders, which was as painless as the Euro from earlier in this post (actually quite painful due to those milled side grooves
):
As previously mentioned, all three cylinders have 5 pin stacks populated, each with one spring, one driver and one key pin, held in with one grub screw. The screws aren't actually as smooth as in the Euro and I had to be very careful not to accidentally cross-thread the screws into the screw-milled pin stack hole. Also for some reason the springs all look different and stick out of the hole a long way, meaning that the screw must be used to push the spring down and must be screwed in under spring tension, unlike the Euro.
5 pin and 6 pin locks:
7 pin lock:
The key bittings for these locks are:
5 pin: 56334
6 pin: 62421
7 pin: 44656
To start picking, I then pinned up the 5 pin lock with two pins. Note how the springs stick out a long way: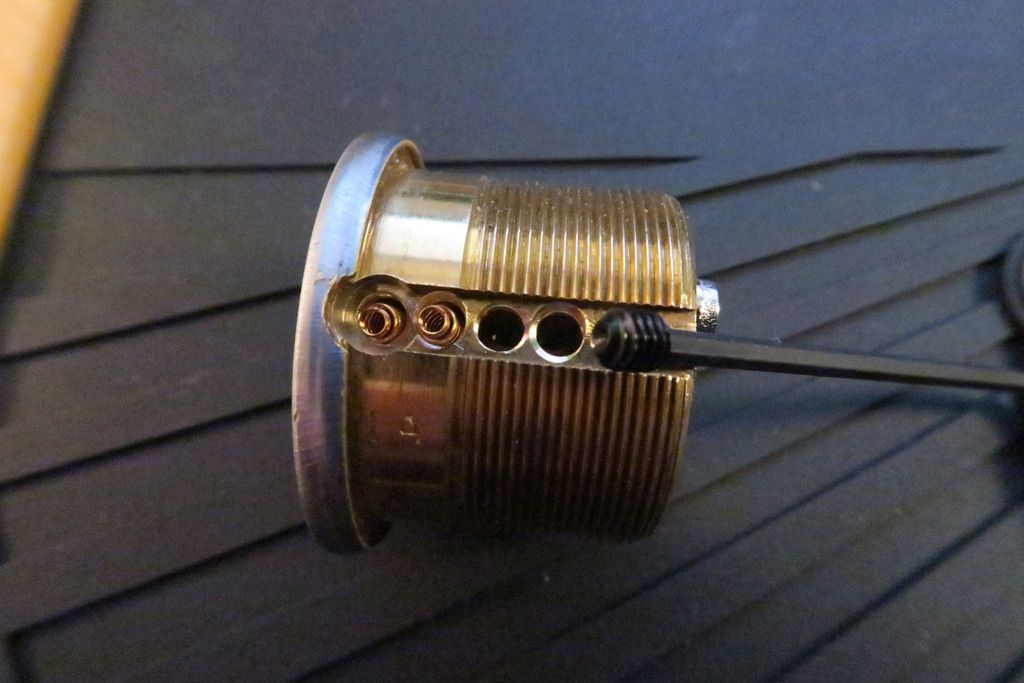 Ready to go!
I have to say that, even clamped up in the vice, I found these locks MUCH harder than the cutaway. I didn't get many photos and didn't time myself due to the fact that I spend ages trying to get used to picking them, and my timed sessions were running into many minutes with no success. This is probably due to me A) not already knowing the binding order of these locks, and B) not being a cutaway I was unable to see when pins were setting, and still don't have the "feel" yet to know when the pins are set.
On my side was the fact that these locks have MAHOOSIVE keyways, you could drive a bus in there
.
I did find though that the double prong tension wrench just wouldn't work in these locks, so I switched to the L wrench from before to pick all of these. I also switched more between the medium and deep hook esp. with the later two (6 and 7 pin) trying to get them to go.
It did take me quite some time to get the hang of this new keyway and layout, but once I did, I was consistently picking the 2 pin version in around 5 secs or less, up to 10 or 15 on rare occasions (tested 10 times in a row to make sure it wasn't a fluke).
I then pinned it up for 3 pins: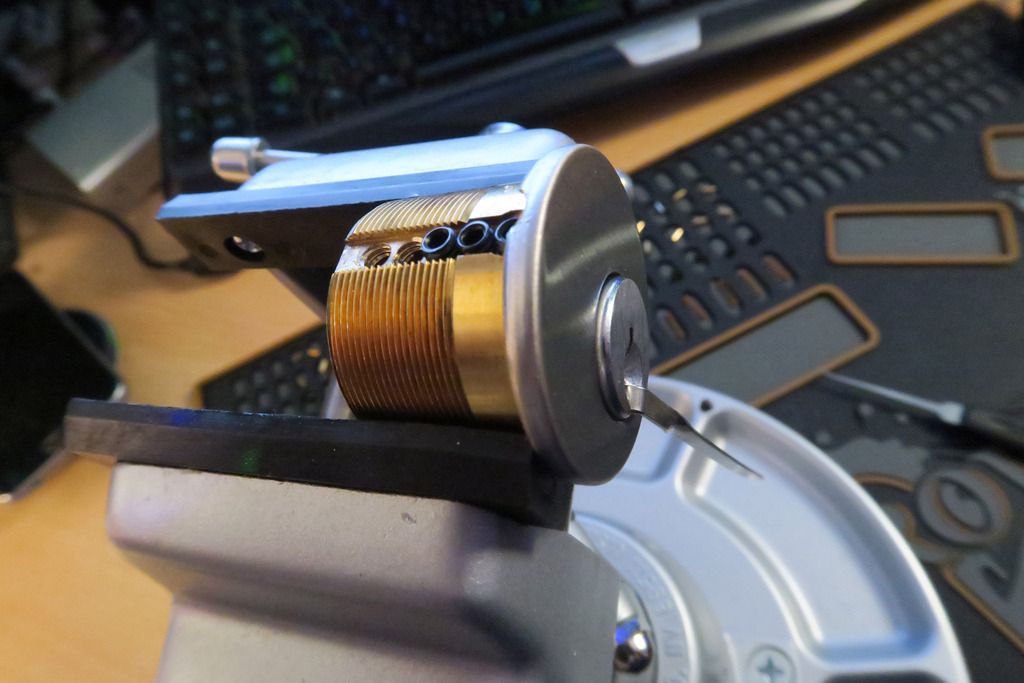 Picked in around 1-2 mins per attempt. Tested three times
Then moved up to 4 pins:
And finally 5 pins:
Oh yeah
Honestly I didn't see much diff. in time between 3, 4 and 5 pins. Maybe I was just getting better each time and, had I gone back to 3 pins, I'd have been doing it in 10 secs. But generally 1-2 mins was my average time, with around 3-4 attempts per pinup (2 attempts for the 5 pin).
Quick shot of my work desk for the hell of it. In the clamp is a picked 4 or 5 pin (can't remember) variant:
I found that despite the wide keyways, these can be a challenge to pick, especially with no view of the pins moving. However once you get the hang of it, it's not too bad - at least with this key bitting. For fun I also put a single spool in to the 5 pin cylinder, just one pin but damn was that hard to pick! Spools are not my friends, heh. I didn't feel any counter rotation or anything like that so I dunno what I was doing wrong. Note that if you change the driver pin, you also need to change the key pin to get the height right - in my first attempt to re-pin this, I left the old key pin in and it was so short that even with the spool in, the stack was already below the shear line and the plug moved freely. Oops!
I then pinned up with the 6 pin and 7 pin cylinder with their standard 5 pins, however despite quite a lot of time picking I was unable to get either of these to go - I blame the annoying bitting on the 6 pin, and the nasty Euro-style keyway on the 7 pin (although, let's be honest, it's probably more than likely just my poor skill, haha!).
I did also find that my picks, being the "Euro" thickness (black handle) of the SouthOrd max range (they also do grey handled US style picks), they tend to "flop" sideways in the keyway and that makes it hard to apply firm pressure to the pick when picking the pins under heavier tension. I did try to let up on the tension also but just couldn't seem to get the pins to pop into place for some reason.
Overall, I'd say that these LLP practice locks are definitely worth buying - they come with a mountain of pins and everything you need to re-pin them, as well as keys and although they are moderately expensive for such a set ($39.50 for the 5 pin, $44.50 for the 6 pin and $49.50 for the 7 pin) you'll get a LOT of use out of them due to the massive array of options for pinning up. Also, as far as I can tell they do give you spools and serrated pins in all sets so you could nab yourself a nice little 5 pin lock which will last you from novice to pro. Just watch out for those razor-sharp milled edges!
Aaand that's about it for my review! Hope it was helpful or at least informative
.
Last edited by
LocksportSouth
on Fri Dec 18, 2015 3:30 pm, edited 1 time in total.