OldddffAASSTT the Spin Master Extraordinaire and American Lock Slayer

Posts: 4412
Joined: Thu Mar 31, 2011 3:16 pm
Location: Michigan
Manipulation #6

FAIL
VANGUARD 2.0
standard ... 3 wheel ... mesh change ... spring loaded fence
So here she is. Someone let me borrow this about the time I was getting started in this game, and I've now had it for nearly 2 months.
Weeks went by and graphs piled up as I worked this dial to no avail. I took frequent breaks consisting of a few days, or even a
week... returning to it with a fresh mind. Sometimes my new attack was formulated by pondering over my previous
graphs. Other times, I thought it best to start over entirely, disregarding any of my previous findings.
My biggest problem was inconsistant readings. Sometimes what appeared to be a gate, would just simply vanish entirely when amplified.
Other times, I was able to conclude to my satisfaction that there was a gate... but then had one hell of a time determining which wheel
it might be on. As time went on, I think doubt corrupted my mind to such an extent that my logical reasoning disappeared as quickly
as some of those gates had!! LOL! At times I was SO VERY TEMPTED to remove the lock cover... but I absolutely refused! lol
Everything seemed to be in working order. Each wheel picked up relatively close from where I parked them.
Wheels 3, 2, and 1 would pick up at a difference of 1, 2, and 2.5 increments respectively. The drive pins
and flys were good. Lever was still springy, functioning properly. Both contact points could be felt.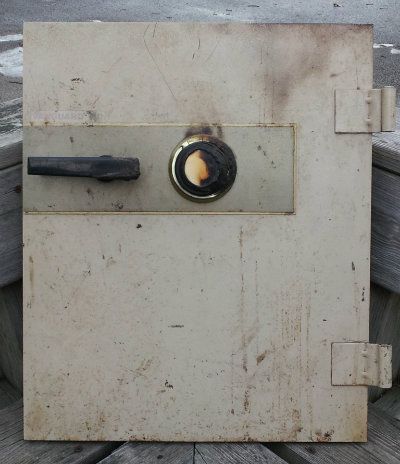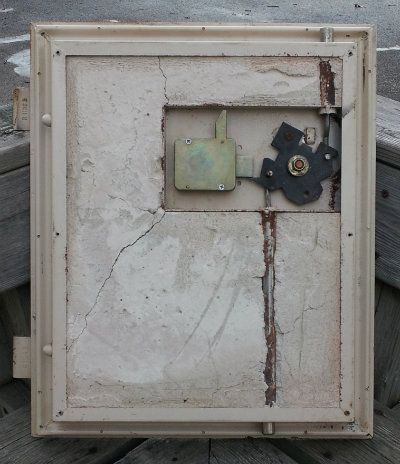 LOL! At first glance, this nastiness would almost look like a legitimate reason for my fail... but it's not.
Yes, it did cause a 'snag point' when turning the dial, but the snag was nowhere near the contact area
and posed no complications. In regards to nearly half the dial having no increments; a piece of tape
and a marker gave me all the spacial reasoning needed for readings. So again, no excuse here.
By the time I felt justified in opening it up... my graph count had reached sixteen!
A valiant effort by anyones standards I think. But even then, I hated to do it. lol
Most certainly the root of my troubles! The discovery of a very loose drive cam.
Holding the cam while turning the dial, there was a fair amount of play between the two.
It was nice to encounter the mesh-type wheels for the first time. The only
kind I have yet to work with now I think are the screw-hole type wheels.
What eluded me for so long was finally revealed:
23 - 8 - 39

viewing both sides of a wheel
:
You can see the fly on one side and the drive pin on the other.
Note the index mark on the inner hub along with the gear-shaped teeth that
allow the inner and outer rings to mesh together to become one solid wheel.
Each wheels' combination is dictated by the orientation of the inner hub to the gated outer ring.
Simply pop the inner portion of the wheel out... align the index mark with the desired
number on the outer portion of the wheel.... then snap them back together.
But here's where it get interesting! Now knowing the combination, I sifted through my pile of 16 graphs.
I found that two of these graphs actually contained everything needed for a successful opening
On one of my graphs I had ran the entire wheel pack right around. I had found and
CONFIRMED
a gate @ 8.
Obviously I didn't know it at the time... but this was wheel 2... the first to read in this particular lock.
At what point, (
and
WHY?!) I ever left this conclusion.... I dunno.
In another graph, I had parked wheels 1 and 2 in a low area in an attempt to read w3. What became of it was a
CLEAR indication of a gate between 35 and 40. That was w3 (39)! I had never even pursued it. *
shakes his head
*
23 - 8 - 39
. . . . . . . . .

CONCLUSIONS

. . . . . . . . .
-Stay calm, and stay confident. If you're able to conclude somthing... stick with it!
-Enjoy the journey AS MUCH (
if not more
) than the destination.
Take comfort in knowing that it's just a matter of time.
"
In 1966, Andy Dufresne escaped from Shawshank prison. All they found of him was a muddy set of prison clothes,
a bar of soap, and an old rock hammer, damn near worn down to the nub. I use to think it would take six-hundred
years to tunnel under the wall with it. Old Andy did it in less than twenty. Oh, Andy loooved Geology. I guess it
appealed to his meticulous nature. An ice age here, million years of mountain building there. Geology is the
study of pressure and time. That's all it takes really..... pressure, and time.
"
lol
"
Enjoy the journey AS MUCH as the destination
."