OldddffAASSTT the Spin Master Extraordinaire and American Lock Slayer

Posts: 4412
Joined: Thu Mar 31, 2011 3:16 pm
Location: Michigan
Different from spring loaded fences, direct entry type locks require readings be taken via the handle.
Considering there's tons of Sentry and old antique safes out there that are of this type...
I figured it's about time I start becoming proficient at opening them.
uturn made mention awhile back about the idea of possibly using a laser for this.
Since then, several members here have given it a try and had great success.
Here's my recent attempt at this. Thought I'd just throw out a bunch of photos
in hopes that it might help get some creative juices flowing for some of you.
The items above: Found a couple things from down in my barn. The others I purchased from Harbor Freight.
The laser pointer projects a line rather than a beam/point & is normally used with circular saws. Only $4.99
The retrieving magnet was a bit more expensive (can't remember). I taped some drawer liner material to
the underside of it so I don't scratch the safe while putting it on or taking it off. Also gives it some grip.
The hardware below is electric related. The clamp on the right is for ground rods.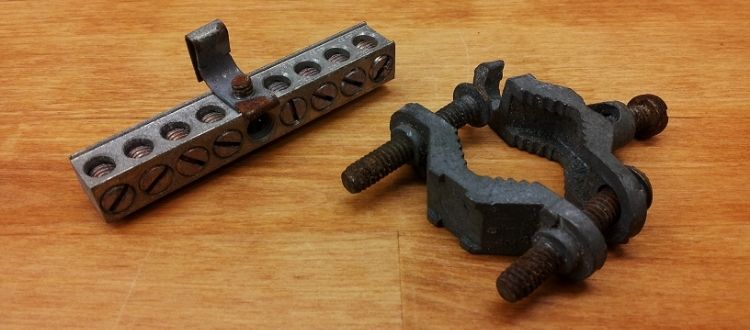 Went shopping for some new nuts & bolts -- did some cutting, filing, sanding, & drilling -- and ended up with something like this.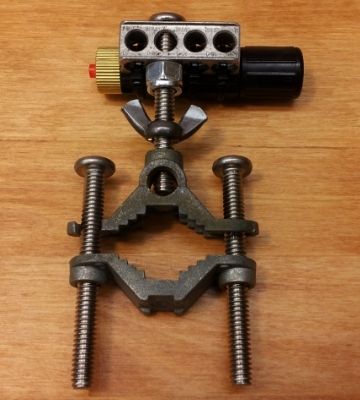 . . .
The addition of the wing nut allows me to rotate the laser to shoot left or right (as needed) and quickly tighten it down.
And, with some extra long bolts through the clamp, I'm able to attach to a wide variety of different sized handles.
There's one more 'accessory' I still need to make though. An interchangeable top portion: another laser & bolt that will
screw into the clamp - but will point
vertically
. Just in case I have to resort to the ceiling. Or, a more likely scenario -
I'm working on an older safe with a vertical handle - ideally I still want to be able to shoot the laser out horizontally.
So this will come in handy and will be quick and easy to simply screw in whatever laser is needed for the job.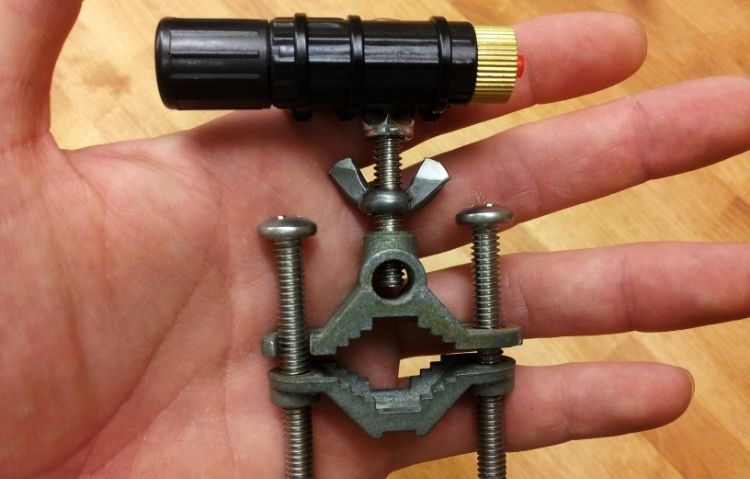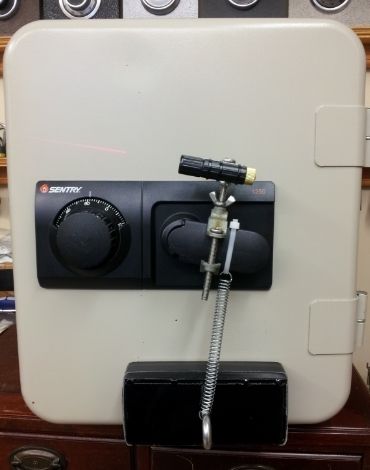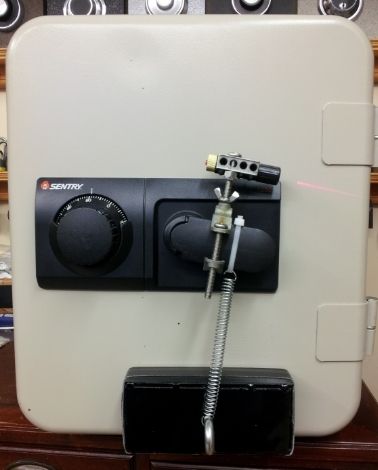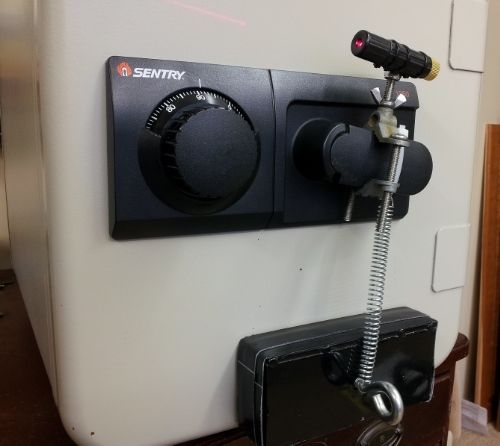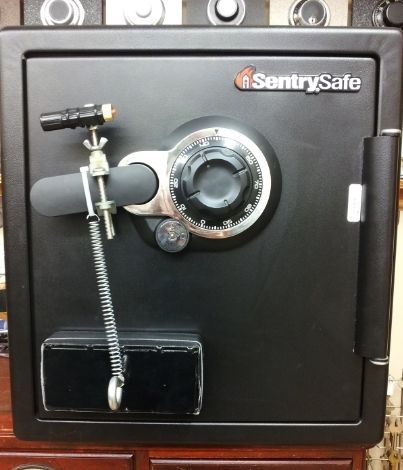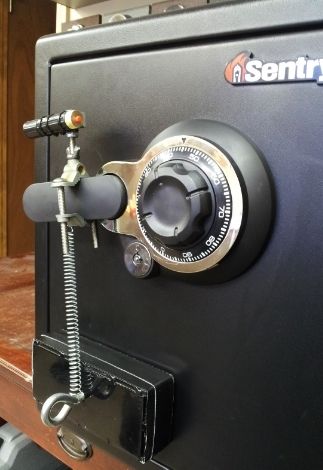 Rather than tape or cardboard/marker, an additional magnet-based laser atop the safe can be used for a reference line.
After you've brought your handle laser to its' baseline reading... simply bring the top laser down into alignment with it.
Although this seems like a great idea, I'm still experimenting quite a bit. I'm not sure yet if I really like the 2nd laser.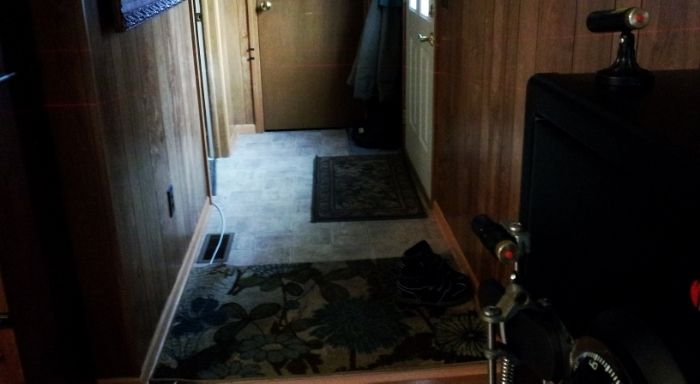 Here, I'm projecting the two lasers down the hall nearly 14 feet onto the closet door.

This particular gate gave me a drop of nearly 3/4 of an inch. HOWEVER, this is not normally the case!

I don't have much experience to speak from with direct-entry types at this time... but my best advice to you would be:
Lower your expectations of what a gate is going to look like!
This pointer is no magic tool. Even at 14' I'm finding the
gate signatures are usually VERY subtle - nothing like the fantastic drop I've pictured above. The other key point is
CONSISTENT

handle pressure
. Absolutely critical. Even with my magnet & spring set up I'm
still
struggling a little.
"
Enjoy the journey AS MUCH as the destination
."