I do not profess to be an expert and I welcome any corrections and or comments to this brief tutorial.
ABLOY
locks use a set or disks not unlike those found in a combination lock you commonly find in high schools. The major difference lies in how these disks are manipulated.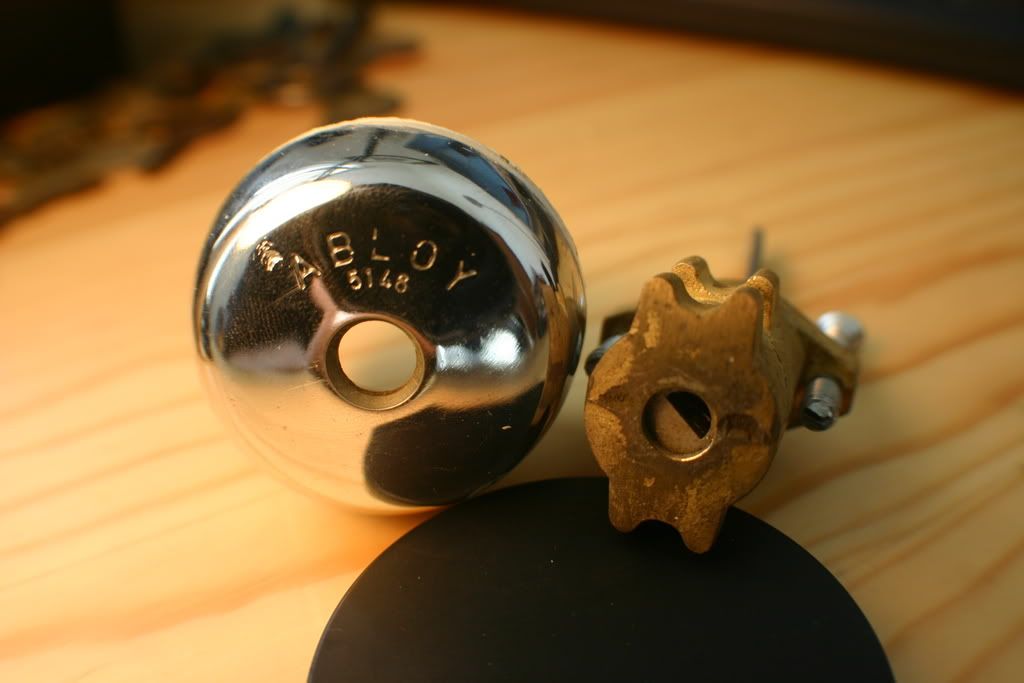 An
ABLOY
key has a series of angled cuts along its edge from 0 to 90 degrees to rotate the disks to a certain position. The first 90 degrees of the key turn is to set the disks in the lock the remaining 90 degrees operates the mechanism The deeper the angle of the key the less the disk will turn.
This video will give you a good idea of how this kind of lock works
As the disks are rotated by the key notches in the circumference of the disks align with a sidebar allowing it to fully retract and the plug to turn (as illustrated in green)
In order to pick this kind of lock you need two tools. 1st a tool for putting tension on the plug and 2nd a tool to manipulate each of the 11 the disks individually. You may be thinking that 11 disks is going to be hard to pick but we know the position of 3 of them already! The 2 deepest disks are used to physically turn the plus and as such always have a 0 degree cut. The top most disk (the one you see) also has a 0 degree cut as the key only has 10 cuts. So we are down to 9 disks and we know where to apply tension to the last 2 disks!
(DISCLAIMER I USED THE "TAIL PIECE" OF MY LOCK FOR TENSION)
In order to apply the tension necessary you could fabricate some fancy tension wrench as some of you on this board are well capable of doing. Myself however am not, so I recommend cutting all the angles down on a key save for the 2 last ones. This will give you the tension you need.
Now we need to manipulate the disks. I am not going to go into detail on what to feel for and such as I have only ever picked one of these and as lockpickers yourselves you know what to be looking for
I used a wiper blade insert and a pair of pliers to make my pick
You can see that the tip of the pick is small enough to be able to set each disk.
You now have the tools to open the lock. Just look for the disks under the most tension and set them in that order and hopefully the plug spins for you!
GOOD LUCK
keep in mind this is an
abloy
classic
and these instructions may not apply to the newer models