COLD STEEL
Specifications:
Weight: 2.4 oz.
Blade Thick: 1/8"
Blade Length: 3
Handle: 3 1/4" long. Kraton
Steel: VG-1 Stainless Steel
Overall Length: 6 1/4"
Sheath: Secure-Ex Sheath
PENDLETON MINI HUNTER
This one, hasn't left my belt since I got it. The sheath is reverseable, and it has a retention strap, but the friction fit is so nice I hardly use the strap.
The photo is a little deceptive, it's a small knife.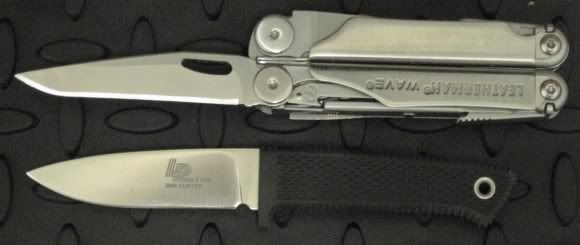 Specifications:
Weight: 16.7 oz.
Blade: 9 1/2"
Thick: 5/16"
Overall: 14 1/2"
Handle: Kraton®
Sheath: Leather
Steel: SK-5 High Carbon
Trail Master®
My pride and joy, way back when it was almost new. I had only taken it on 1 hike when I snapped that photo. Carrying a pack with me everywhere helps make that one really easy to EDC, then I stuff it in my belt after dark or whenever. I carry it, because I love it, and like most love, it's a burdon that I bare because I don't really have a choice
I drempt about owning this knife for over a year. Truthfully, I probably carry more weight in lockpicks than both of these knives combined.