It's not nearly as extensive as some of the other collections I've seen posted here... but I've managed to gather a few locks as well over the years. For those who are interested...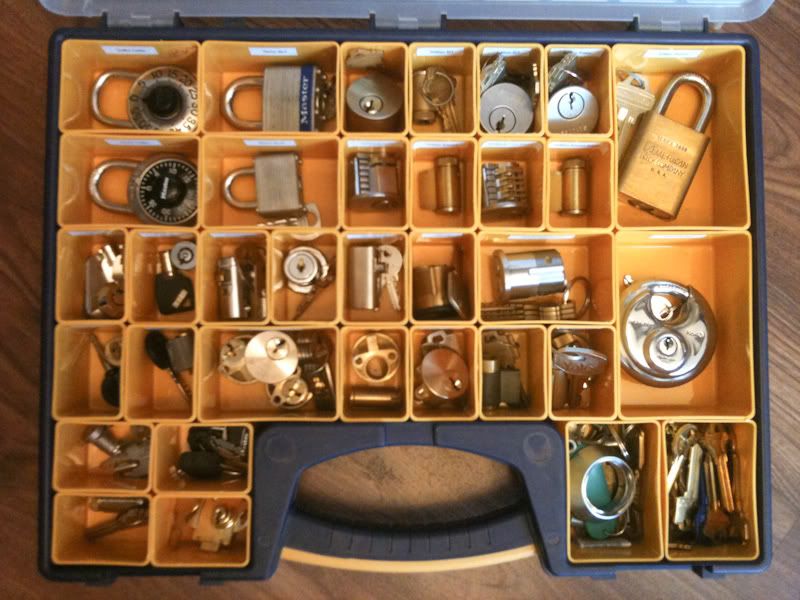 Various cabinet locks (S&G filing cabinet lock, etc.)
Various Dudley and Master locks (Master No. 1, Master No. 22, Master No. 40, etc.)
Tubular locks: 7-pin cut-away, basic 7-pin, ACE II
Misc pin-tumbler locks
GMS MX
Schlage SC1
Schlage Primus (Classic)
Schlage Everest: cut-away mortise cylinder, KIK, LFIC, and American padlock
Schlage Everest Primus: cut-away mortise cylinder, KIK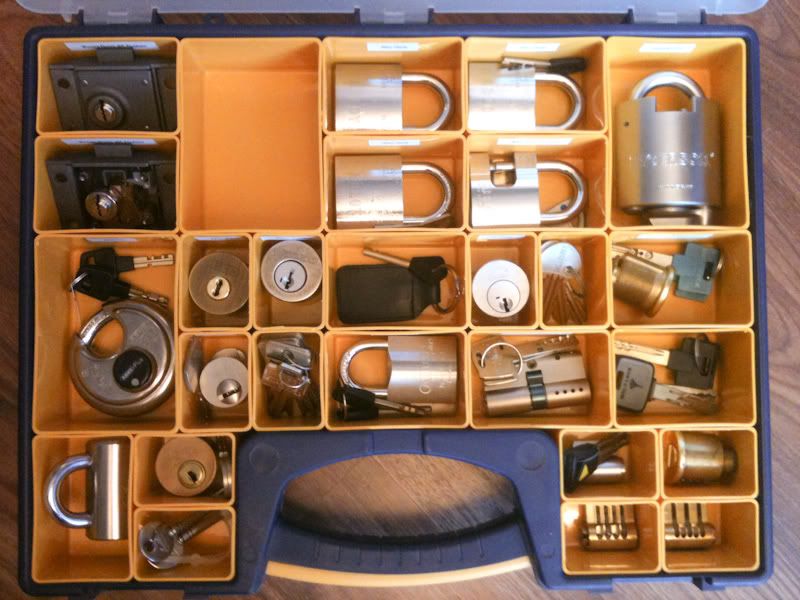 Western Electric 30C Payphone Locks: regular and cut-away
ABUS Plus: Discus and No.88 padlock
Bramah BP-17
KABA Gemini
Dom iX
EVVA 3KS
Weiser SmartKey
U-Change
Abloy Classic padlocks
Abloy Disklock Pro KIK
Abloy Protec cut-away
Ingersoll CS712
Mul-T-Lock Classic: rim cylinder and cut-away
Mul-T-Lock Interactive
Mul-T-Lock MT5+ cut-away
Ingersoll "London Line"
Misc Euro-profile cylinders (ABUS, Winkhaus)
Van Lock
Medeco Original: KIK, mortise, military keyway
Medeco Biaxial: cut-away, KIK, various mortise
Medeco M3: 5-pin mortise, 6-pin mortise
Medeco Logic: mortise, G8R padlock
Medeco Payphone Lock
Medeco Camlock
Medeco Duracam
ASSA Twin V-10
BEST SFIC: cut-away and various cores
Papiaz Cruciform
BiLock First Generation
MIWA EC Magnetic
Toyota ignition cut-away
Grand Prix 2010 ignition, door, glovebox
Brinks shrouded
Various trigger locks (Master, Targus, etc.)
Master Speed-Dial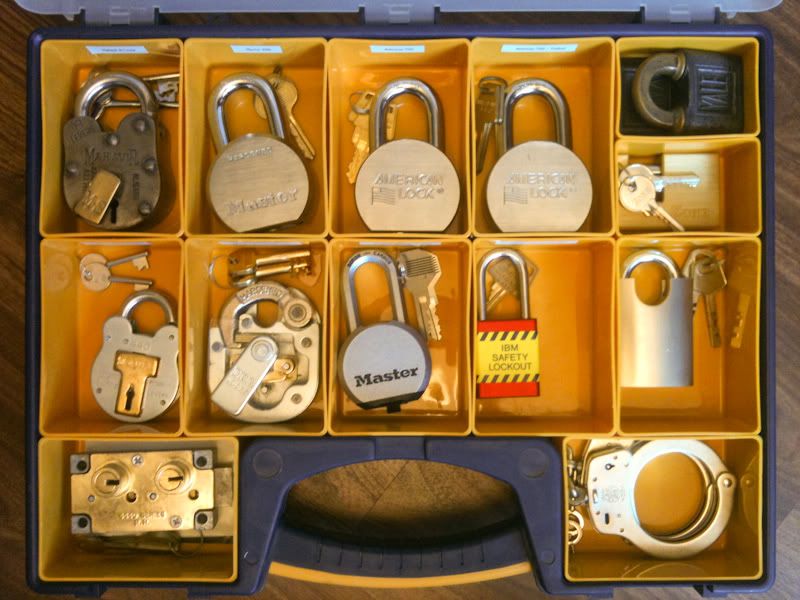 Mahavir 8-lever
Squire 440 4-lever
S&G 4400 Safety-Deposit
Master 930 and Magnum
ERA 975 5-lever cut-away
American 700: regular and a "tricked" version for escape artists
S&W M-100 handcuffs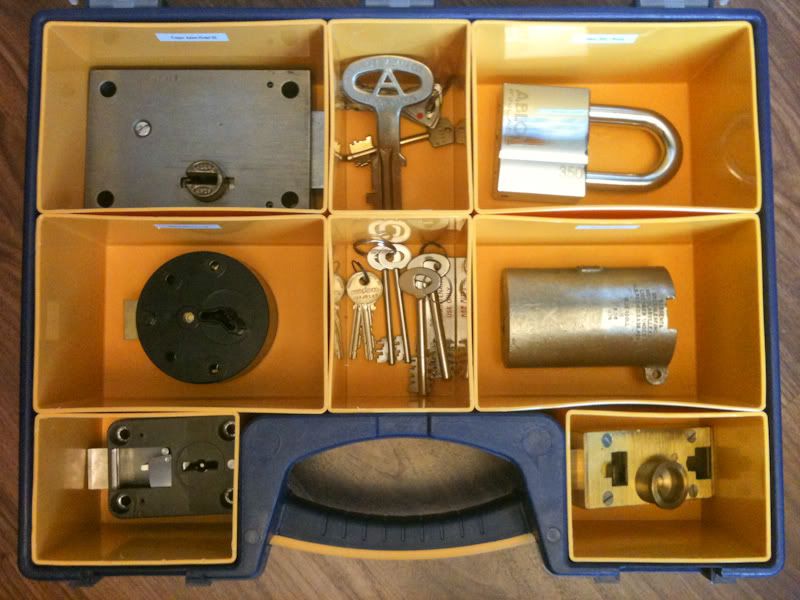 Folger Adam Model 82 (cell-door lock)
NATO Mersey Lock
Kromer Euronovum 14-lever cut-away
Abloy 350 (Protec)
S&G 831B
Chubb Detector safety-deposit
LaGard 3330 (Group 2) cut-away
Master 2071D bank storage bag