OldddffAASSTT the Spin Master Extraordinaire and American Lock Slayer

Posts: 4114
Joined: Thu Mar 31, 2011 3:16 pm
Location: Michigan
My first authentic opening.
ebay purchase "
Sold as is - no combination
"
But first things first... we must appease the Sargent! lol
jeffmoss26 wrote:

I wanna see more of the shelves in the background
So we utilize a different section of lock shelves for the background.
Been debating how wordy to get at this point since 1) This is still very experimental & my method is still evolving.
And 2) honestly, it's rather difficult to put into words what exactly I'm hearing that's enabled me to open a couple.
I think a quick description of these locks would be helpful to anyone who hasn't played with one though.
They're unlike anything we're use to. Rather than multiple wheels, these use just a single disc with various
protrusions on it. And instead of the traditional numbers / increments on the face of the lock for reference,
you simply count the number of 'clicks' you turn - reversing directions as you work your way back & forth.
ie. for a combo of
Right 3-2-1
. You'd start right 3 clicks, then left 2 clicks, and finally right 1 click. Open
The reference point from which to start varies with different models. Some of them have a solid stop when
turning the dial right. So you'd begin working the combo from there with a left rotation. Other models have
no stop - the dial turns indefinitely in either direction. In this case, the starting position would be 12 noon.
There's also no telling just how many '
movements
' any given combination may consist of. I'm not really
sure yet, but as far as I know from my very limited experience - it's usually between 3 & 6 movements.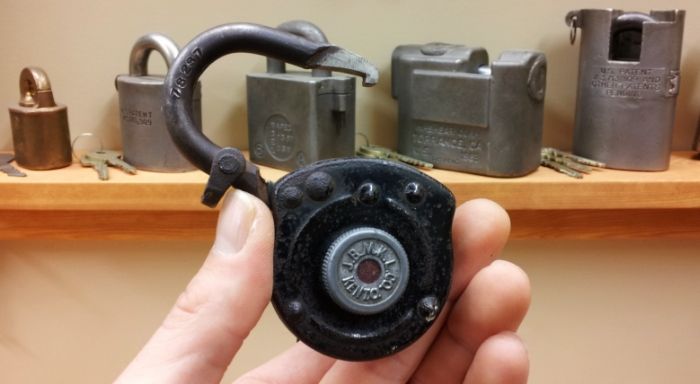 This type (
similar to the first one pictured in this thread
) so far seem to give me the least resistance in
comparison to some of the other models. I actually had this one open in just a few minutes. It's also nice that
the bodies on these are actual metal... makes it quick & easy to just slap my mic on the back and get right to work.
This particular lock has a
left
stop in the dial & I start from there,
right
. I quickly find the combo of:
right 2-3-7-1-1-1
Take note of the first two movements... right 2, left 3. Also recall the solid stop in the dial with
left
rotation. You see
what I'm getting at here? Right 2 clicks
away
from the stop... then left 3 clicks. This brings me 1 click
beyond
what
would otherwise be the stop point! This, in my mind, absolutely confirmed the first movement was indeed correct.
Here's why I make mention of this. I decide to take the shackle code (466) to see if it's listed in the code books.

Turns out this one
is
listed... but it's not what I expected. "
Left to Stop. Then Right 6-1-1-1
" Hmmm?
What I cracked the lock to: right
2-3-7-1-1-1
versus their listing: right
6-1-1-1
. Why the difference?
Remember my first two movements leave me 1 click left of the stop point.
From there, 7 clicks right IS essentially 6 clicks when counting from the stop.
So my last four digits were spot on. But why did my ears carry me through an
additional two movements at the start? At this time, I really have know idea! lol
Sure, I'm curious... but for now I'd like to just take a moment to say..... OPEN!!!
"
Enjoy the journey AS MUCH as the destination
."